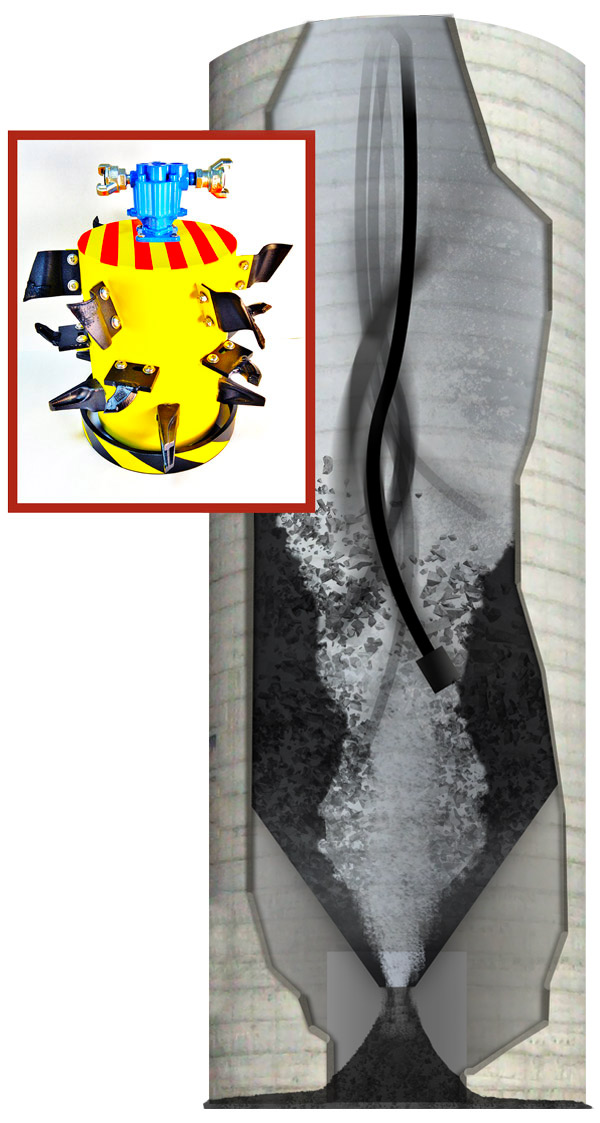 Silo cleaning is a vital maintenance procedure that ensures the safety of materials stored for all industries and applications. Regular removal of residual stored materials on interior silo walls prevents dangerous build up from forming and keeps long-term maintenance costs low. Silo cleaning also improves silo efficiency.

Material Build Up in Silos
Scheduling regular silo cleanings and maintenance will prevent buildup of materials along silo walls that cause flow to be restricted.

USA Silo Service Inc. has been focused on the needs of the silo industry across the United States and Canada for almost 30 years. Our economical pricing and exceptional service makes us one of the best in the silo cleaning and maintenance industry.
Silo Cleaning Services
Silo Cleaning / Bulk Storage Removal / Clean-Out Services
Bin Cleaning
Air Pad Inspection
Air Pad Removal / Replacement
The Boss Silo Cleaning Machine shifts more material than any other silo cleaning method available. It minimizes downtime, speeds cleaning and provides a field proven technique used on hundreds of silos throughout the United States.

AREAS OF CONCENTRATION FOR SILO CLEANING AND BIN CLEANING:
Borax
Carbon
Black Cement
Clay
Clinker Coal
Fly Ash
Foundry Grain
Grain Products
Gypsum
Lime
Palletized Fly Ash
Salt
Sand
Soda Ash

Routine Silo Cleaning Improves Efficiency
Cleaning allows for efficient flow of stored materials into and out of silos as intended by the silo design. Eliminating residue from interior walls also maximizes capacity so more material can be stored.
Silo Safety
Build up of material residue on interior walls leads to visual obstructions that can make inspection difficult or impossible. When powders adhere to silo sides, water leaks and failing coating systems in particular are often missed.
Professional Silo Cleaning
Silo cleaning is dangerous and difficult without the proper training, equipment, and precautionary measures. It is essential to contract experienced silo cleaning professionals who have the knowledge and tools necessary to perform safe and efficient cleaning.
Marietta Silos now offers silo, bin and dome cleaning through USA Silo Service. Contact USA Silo Service to get a quote and schedule your next silo cleaning today.