The quality of your stored cement can be compromised by the conditions on top of and inside your cement silo. In fact, no matter the design or the materials stored, silos are susceptible to material flow issues. Material flow that is unimpeded by moisture or other issues is essential for smooth operations and the continued functionality of your silo.
To prevent stored cement from setting inside the silo due to moisture and humidity levels, the structure must be completely watertight. Even the smallest leaks in silo roofs and walls can damage your stored cement and result in material flow issues. Ambient humidity levels can also cause some materials to set. If you do aerate stored materials, it is essential to use an air dryer system to help lower the ambient humidity level in your silo. You should also avoid over aerating stored materials as excess aeration can pump unneeded moist air into the silo, which may lead to hydration of the cement. Hydrating occurs when moisture mixes with stored material and causes it to solidify within the silo (cement is highly susceptible to hydrating). When this happens, the cement can expand and cause added wall pressure, increasing the likelihood of structural failure.
Silo Maintenance Schedules
Verify during inspections that regular preventive maintenance measures are being followed. Essential maintenance includes exterior waterproof coatings and keeping your air pad and air stones in good operational condition. Silo maintenance should also include a routine professional cleaning and regular, complete silo emptying.
Of these measures, one of the most important is regular emptying. Silos that are regularly emptied and refilled are less likely to experience buildup issues that can be seen in silos that are kept topped off. Regularly emptied silos need professional cleaning less frequently and are less likely to experience problems, such as material compacting and hydrating.
The importance of inspecting your silo on a regular basis and making sure your structure is protected from the elements, especially the roof, is the focus of one of our recent case studies, which specifically examines a leaking concrete silo roof, with cement stored inside.
To learn more, be sure to check out our full library of silo inspection videos on silo maintenance, inspection and repair on

.
---
Prevention is the most effective method to ensure the integrity of concrete structures, surfaces and silos. A proactive maintenance and inspection program is crucial to increase the life of your concrete and ensure the safety of those working around your structures. A proactive safety program should always include annual or semi-annual inspections to check for concealed damage and to assess visible problems that could lead to structural failure.
Though concrete is a superior material for the construction of storage silos, normal loading and unloading operations can lead to structural issues over time. Cracks in silo walls, linings and foundations are an indication of stress.
Concrete walls that show horizontal, vertical or diagonal cracking may be an indication of delamination, or separation of the concrete into layers. Delamination of the concrete is caused by the lack of bonding to the interior structural steel reinforcement, thus weakening the silo's structural capacity. Issues of this nature will require repair sooner rather than later. Delamination of silo walls can lead to wall failure or collapse and should be addressed by a professional silo repair company immediately. Corrosion of metal silo components, exposed rebar or other deterioration like spalling should also be noted during a visual inspection.
Horizontal and vertical cracks are typically caused by temperature variations, moisture and internal pressure from the stored material. Cracks can cause concrete and steel rebar corrosion which can decrease wall stiffness, allow deflection, degrade durability and strength due to carbonation, and permit water penetration into the concrete wall.
To repair cracks in a poured in place silo, an epoxy injection is used to fill in the cracks. After epoxy injection, it is recommended to add post-tensioned strands completely around the silo area of delamination to provide additional structural integrity. These strands can replace all of the original steel reinforcing and, assuming the concrete is still sound, the silo can be returned to its original load capacity in an economical manner.
Much of this damage is preventable through routine inspection and maintenance. Third-party inspections, maintenance and repair services are the best way to manage safety on any scale. Many structural issues can be easily and economically addressed if caught early. One of our recent case studies inspects a slipform concrete silo with a horizontal crack.
To learn more, be sure to check out our full library of silo inspection videos on silo maintenance, inspection and repair on

---
Regular silo inspections, on annual, two- or five-year intervals, can help identify problems that increase the risk of structure collapse. Based on inspection results, preventive maintenance can be performed to avoid larger more expensive repairs later.
Time, weather and usage are all contributors to the degradation of silo structures. The signs of degradation and the failures observed are different in concrete and steel silos. For example, with steel silos, those signs include wall deformations, buckling, wear and corrosion. For concrete silos, those signs can be observed in the form of silo wall delamination, cracks, rebar corrosion and discharge configuration issues.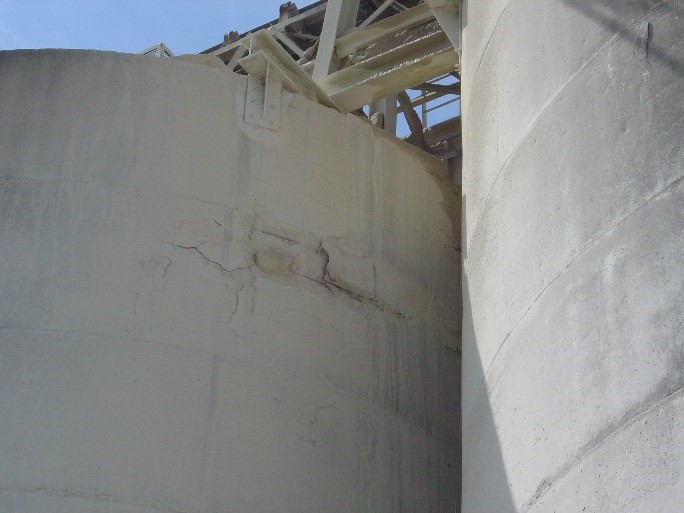 Silo Inspection Components
Proactive silo inspection helps ensure continued, safe operation. Common problems include various roof issues, wall cracking, material buildup and cone failures. Frequent, regular observation of the whole silo structure is the best way to catch potential problems early and avoid possible safety issues.
Silo inspection companies examine aspects known to be potential areas of failure. In general, this includes foundations, walls and roofs. For concrete silos it also includes cones or discharge configuration.
Foundations
A strong foundation is integral to wall stability and the overall safety of the workplace or structure. Cracking foundations and erosion of earth around the foundation are relatively easy to identify during general inspection if above grade. Other issues, such as settlement, can only be identified through close examination by a qualified professional.
Walls
Walls are placed under an enormous amount of stress horizontally and vertically during the normal useful life of the concrete structure or silo. These stresses can result in horizontal, vertical or diagonal cracking of the concrete walls or offset stave joints in the case of stave silo construction. Cracked silo walls can indicate delamination which greatly comprises the structural integrity of steel reinforcement in the silo wall and can potentially lead to failure or collapse if not repaired immediately.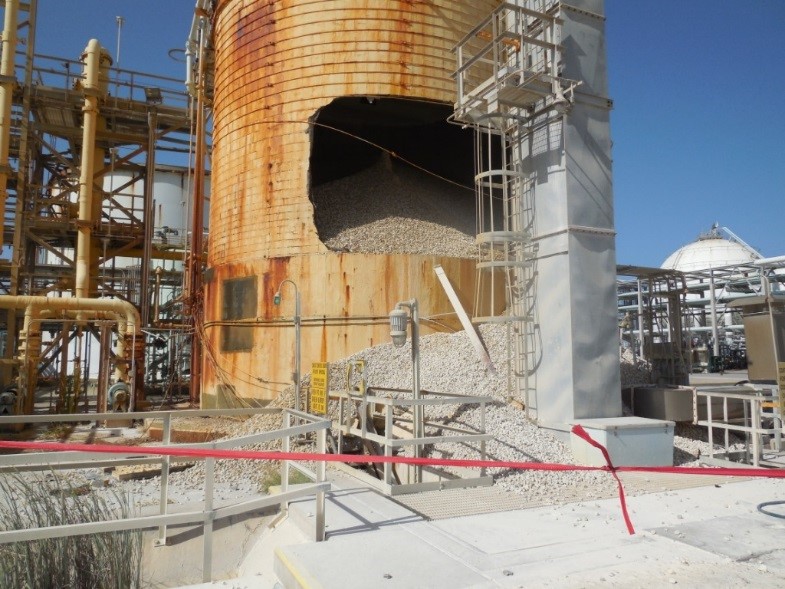 Cones, Floors, Shelves and Tunnels
Silo discharge cones are frequently at the forefront of silo failures and should be of utmost importance in being inspected for wear, weld condition and structural integrity. Silo floors, shelves and tunnels are particular areas of concern with regard to concrete deterioration as they typically involve an interface of steel and/or concrete which can draw moisture, introduce or show signs of movement relative to structure and lead to water and material leaks.
Roofs
As with any structure, the roof generally receives the brunt of the physical and environmental abuse. Proper roof maintenance is needed to keep the materials within the silo safe and dry and prevent further damage to other concrete structures.
Silo roofs are subject to abuse from overfilling, explosions, vibrations and movement during silo loading or unloading and overloading, as well as environmental abuse. Buildup of excess material leaking from conveyors on top of the roof can put undue stress on the internal infrastructure and lead to roof sag which increases the risk of collapse.
We offer advice on all levels of silo inspection, repair, dismantling and reconstruction as well as concrete repair services for industrial concrete. To begin your silo inspection process, contact us today.
Be sure to check out our full library of silo inspection videos on

---